It's officially winter, and although we may miss the ice-cream and bbq patio season, there is nothing like a great bowl of hearty stew, or some good old mac n' cheese to cure that wintery chilled spot! For your winter appetite we've got all the cheerful and delicious spots just a short distance from Minto West Side! Nestled within close proximity to King West, Queen West, and Liberty Village, Minto West Side's convenient location is swarming with good eats that will feed your soul on that crisp cold walk home from work, or on a wintery weekend with friends!
Let's begin!
The Foggy Dew :
Known for serving all the traditions of Ireland, this place recreates a genuine Irish establishment in the heart of King West Village. Amongst the warm food menu, there is always an array of beers on tap or by the pint. Share plates of Black and Tan Onion Rings, Sharp Cheddar and Ale Dip or Duck Confit Poutine followed by Guinness Braised Ontario Angus Flat Iron Steak or Traditional Fish 'n' Chips! These are only a few of their yummy menu items!  Come and join The Foggy Dew crew on Saturday nights and you will be obliged with some great live music to pair with that scrumptious dish!  Group bookings and private parties are also welcomed at the Foggy Dew. For more information visit their website:  http://fabrestaurants.ca/restaurant/foggy-dew/
Touhenboku:
Ramen is one of the traditional dishes of Japan, known for its beautifully orchestrated bowl of noodles, veggies, meat and or seafood!  Amongst the hottest cuisines in this city, Touhenboku has gained popularity for its cozy atmosphere and chummy table layout.  Touhenboku explodes with the perfect combination of class and comfort with an impressive selection of what some call "Japanese soul food,"!  Folks swarm into Touhenboku for its warm approach and consistently delicious selection of its signature dishes. For their main attraction, Ramen, the broth is perfectly clear yet intensely flavored, the noodles are thick and chewy and perfectly filling and your choice of all the add-ins only add to the robust tang. Customers can also enjoy a range of appetizing and authentic accompaniments, like gyoza dumplings and the much-celebrated chicken karaage. To check out the menu click here:  http://www.touhenboku.ca/
Smoque N Bones:
Craving ribs tonight? Say no more and make your way over to Smoque N Bones for their famous pork ribs that come fresh out of the smoker in three-hour intervals. They're served naked straight from the smoker with barbecue sauce supplied on the side with a brush for your own freedom and convenience to add as much or as little as you please!  In addition to ribs, there are southern comfort food sides that are evenly priced at $3.90 some of which include;  sweet options like candied yams and baked beans, collard greens, dirty rice, cheesy grits, shoestring potatoes, sweet potato waffle fries and buttermilk onion ring and mac n' cheese! Want something to cool of all that heat; try out the cold salads like coleslaw and potato salad! There is pretty much something for everyone, including draught beers such as; Samuel Adams, Amsterdam Blonde, Muskoka Detour, Flying Monkey and Mill St. Tankhouse! You can choose a pint sized or, regular sized portion (if you're full off all those ribs)! Check out their website for directions and more menu options: http://smoquenbones.com/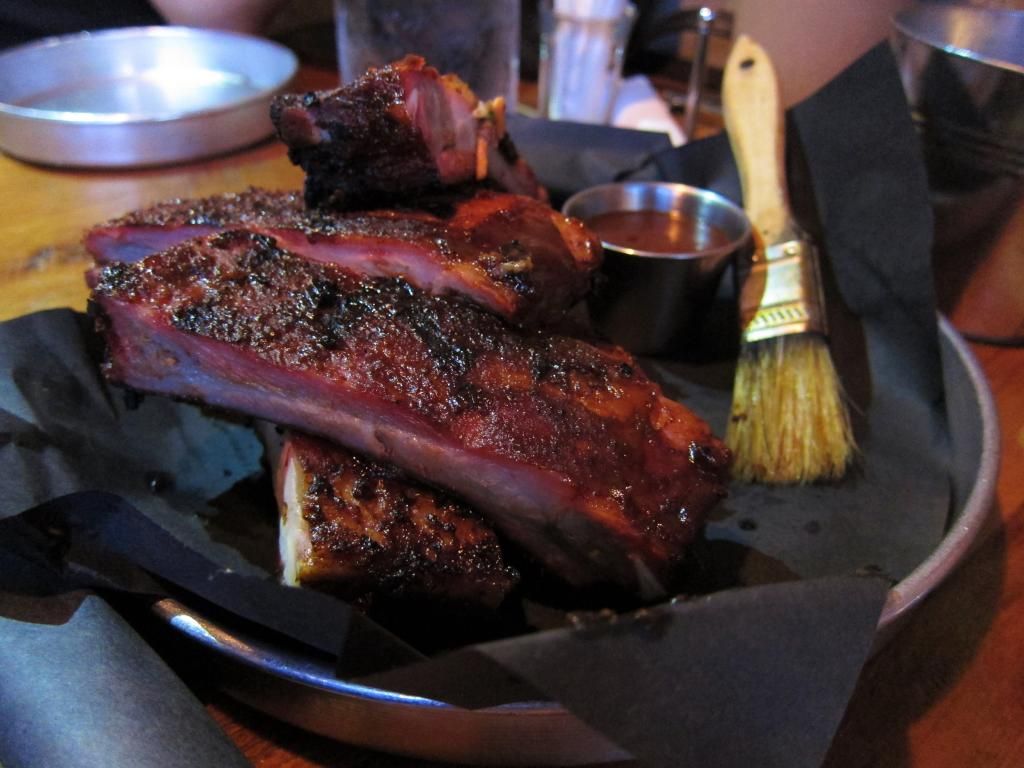 Cheesewerks:
 Located in South Bathurst area, this glassy establishment boasts off their fresh house-made soups, baked goods, libations, and of course the main event, lots and lots of grilled cheese sandwiches, ranging from bare-bones classics to creative and authentic creations of their own! This yummy venue is setup almost like a dining room set against a wall mosaic of cheese-inspired tones of yellows. Once you've found a table through the rush, enjoy the city-inspired sandwiches off the menu with flavors that include; Koreatown" (gruyere and kimchi), and "Danforth" (aged goat cheddar and olive tapenade), and "Little Italy" (buffalo mozzarella, tomato and basil).  There are many more menu options, all which come with a side of fresh hand cut kettle chips! Cheesewerks also hosts many  events throughout the month, check out their event listings, menu and location here: http://www.cheesewerks.com/

Queen Street Warehouse: 
The same owners of El Furniture Warehouse bring you Queen Street Warehouse, where you can get you comfort food fix, with almost everything on the menu for $5! Hearty options include, Braised Beef Spaghetti (Fresh herbs, tomato marinara, hint of cream + slow cook beef) Warehouse Crispy Mac n' Cheese (creamy 3 cheese, roasted red pepper Alfredo sauce, crunchy corn, fresh thyme + Parmesan crust) And for your sweet tooth finale- some fresh baked mini donuts! This venue is particularly popular for its large TV screens that showcase music and concert video's, rap battles, and accompanying tunes that are a mix of '80s and '90s rock, R'n'B and hip hop! Friendly staff, good food and music, say no more! Click here for directions: http://www.toronto.com/restaurants/queen-street-warehouse/
The Thompson Diner: 
The Thompson Diner (formerly, The Counter), is the Thompson Hotel's trendy 24-hour diner, a spin off the classic diner theme. Just south of King on Bathurst, this restaurant is decidedly more upscale in appearance but still provides a great selection of some good old comfort food.  The sleek and retro décor and huge red velvet booths is what makes up this large space! The menu offerings include; fries, onion rings, which come with choices of dips like garlic aioli! But if you made your way to the diner, it only seems right to try one of The Thompson Diner's famous burgers (with options that are available on veggie, turkey and of course the classic beef)! There is also a wide selection of toppings to choose from that graciously decorate these huge tower-like burgers!  Most burgers arrive on a wooden cutting board, generously topped with your choice of comfort goodness like melted jalapeno jack cheese, spinach, crispy fried onions, lettuce and tomato. Large, messy, and maybe a challenge to eat, but the comfort it provides to the palate keeps everyone coming back for more! For location and menu details click here: http://www.thompsondiner.com/
Is your mouth watering yet? Get your fix at some or all of these locations and while you're in the area, visit us inside the Minto West Side Presentation Centre at 25 Bathurst Street and learn how you can call the Westside neighborhood, home.